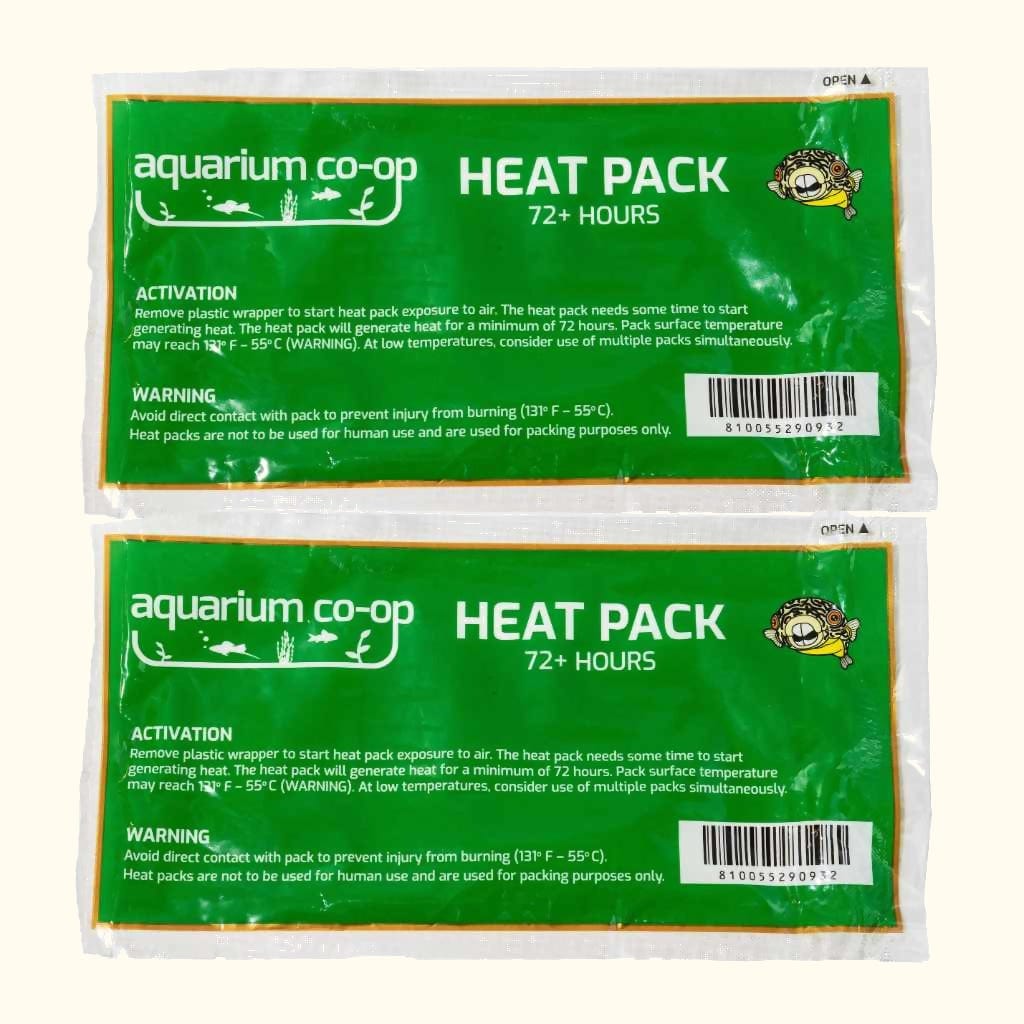 Prevents Cold Damage When Transporting Live Animals
Reliable, Steady Heat Up To 72 Hours
Ideal for Multi-Day Shipments
If you need to transport live fish, plants or any other temperature-sensitive item in chilly winter weather, it is essential to include a heat pack to keep your shipment from freezing. For long distances especially, the amount of time the heat pack stays warm can make all the difference in ensuring your shipment arrives alive. The new 72 hour heat packs from Aquarium Co-Op get the job done by keeping packages warm and preventing cold damage for up to 72 hours while in transit. Made specifically for transporting live animals and plants, these heat packs will release heat steadily over time. Package contains 2 individually sealed heat packs.
Shipped Fish Cross Country, No Problems
I used these heating packs to ship 33 fish from FL to MA, and it seemed to work well. No complaints here!
Quality Heat Packs
Bought 6 of these Aquarium Co-op 72 Hour Heat Packs to try out as I was experiencing defective problems with Uniheat Packs. Lost a couple orders in Shipping due to not staying hot long enough. Just sent my first Order of Apisto Cacatuoides Orange Flash Pairs yesterday from Nebraska to North Carolina using an Aquarium Co-op Heat Pack and it worked perfectly as expected. Will use these from now on.
The bomb dot com.
We trust Aquarium Co-Op, their recommendations and their service completely! Thanks for always teaching us something new.
Heat Packs
I ship fish that I breed to people across the US. Aquarium CoOp's heat packs work amazingly well for me. They do last 72 hours as advertised.
Emergency heat packs
I got several heat packs so that I can use them in the winter time in case the power goes out. The heat packs were sealed inside of another thick envelope for protection, and there were clear instructions on the top to be careful when cutting open the envelope.